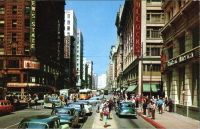 WRITERS on SEVENTH :: November 7th, 4:00 reception, 5:00 reading
----at the old Bailey Hat building at 7th and Los Angeles
716 South Los Angeles Street, #408

an opportunity to hear the unknown stories of a city street-
A great line-up so far for our Conservancy 7th Street literary adventue:::
Bill Ratner - Mike Sonksen- Amy Shimshon Santos - Judeth Oden Choi -
Chiwan Choi - Brenda Varda - Richard Tuttobene -
Andrea Kittelson Harold Abramowitz
...
A project with the Los Angeles Conservancy downtown walking tour:
STROLLING ON 7TH STREET. See more at www.laconservancy.org

Following the tour, there will be an open house and live reading at Santee Court's Bailey Hat Building. Open House at 4. Reading at 5. Wine courtesy of Mignon Wine and Cheese Bar //www.mignonla.com/

See you there!

On November 7th, the Los Angeles Conservancy is curating a Downtown L.A. experience: STROLLING ON 7th STREET
Wordspace, in conjunction with the Conservancy, is creating a 'Writers On Seventh' event: literary contributions to this event/publication can be based on 7th Street history, architecture, events, personages, culture and current transformations.

As in previous collaborations between Wordspace and the Conservancy, the parameters for contributions are as follows:

A researched connection to 7th Street Downtown L.A. based on:
Documents, interviews, visual interpretation, historical characters, events
Suggestions: the L.A. Times, a visit to archives at USC or Central Library, a stroll down the street, The Downtown News....
Some of our links? Buildings on 7th, Elegance, Protest, Progress, Fashion, Objects/shopping
All genres welcome - fiction, creative non-fiction, poetry, performance or theatrical writing

Experiments are encouraged: collaboration, choral, cross-genre
Because this will be translated to a 'reading evening', the submissions should be under 8 minutes OR contain designated sections that could be read in that time-frame: prose submissions under 3,000 words, 3 poems, or performance works (solo or group) timed to under 8-minutes.

10 selections will be chosen as part of Wordspace's first collaborative collection, Writers on Seventh, with approximately 2 writers per genre: fiction, creative non-fiction, poetry, personal narrative, drama. Writers can also participate in the public reading on the evening of November 7th.

Wordspace associates and Staff will be reading contributions for selection.
Submissions Due by October 15th, and will be notified by October 25th.

Contact seventh@wordspace.net for more information or to submit your selection.